Over the past ten years the travel market trends have changed like never before – and likewise have the customer expectations. Tough competition led the long established legacy brands to either restructure their product offerings, or to rebrand entirely so they can keep up. Ten years ago every customer in economy cabin ate the same meal, had the same baggage allowance – not today. Pre-ordered gourmet meals, pre-assigned preferred seats, extra checked baggage allowance, lounge access, airport parking, travel insurance – it's your choice to either treat yourself with all the perks, or to stay on budget. By working with wide range of suppliers and different products being consolidated within a single platform, Symphony.Corporate allows you to define your truly individual content.
Air
With more than 1,100 traditional carriers and over 140 low cost carriers in our portfolio, we can bring your employees to literally any corner of the world. Thanks to sophisticated filtering options you can easily narrow your search by preferred departure, arrival and transfer times, or perhaps a particular airline or airline alliance. Reflecting your travel policy, easy to understand icons will show you whether the particular offer sits within our outside the travel policy. Likewise, a dedicated icon will inform your staff about a corporate fare or corporate loyalty scheme membership – so you're not missing any rewards. Or perhaps you want to decide based on the airline´s CO2 burn, so you're on track with your CSR initiatives.
Ancillary Products
Undoubtedly the current biggest trend in the commercial aviation, even customers of the traditional airlines need to buy the extra services at an additional cost, and thus create a truly individual travel experience. Symphony.Corporate offers your staff the same user and booking experience and range of products as when booking through the airline's own website – including additional bags, preferred seats, gourmet meals or airport lounges. And to go even a step further we have incorporate a special logic to recongnize your frequent flyer tier level – and perhaps offer you some ancillary products for free.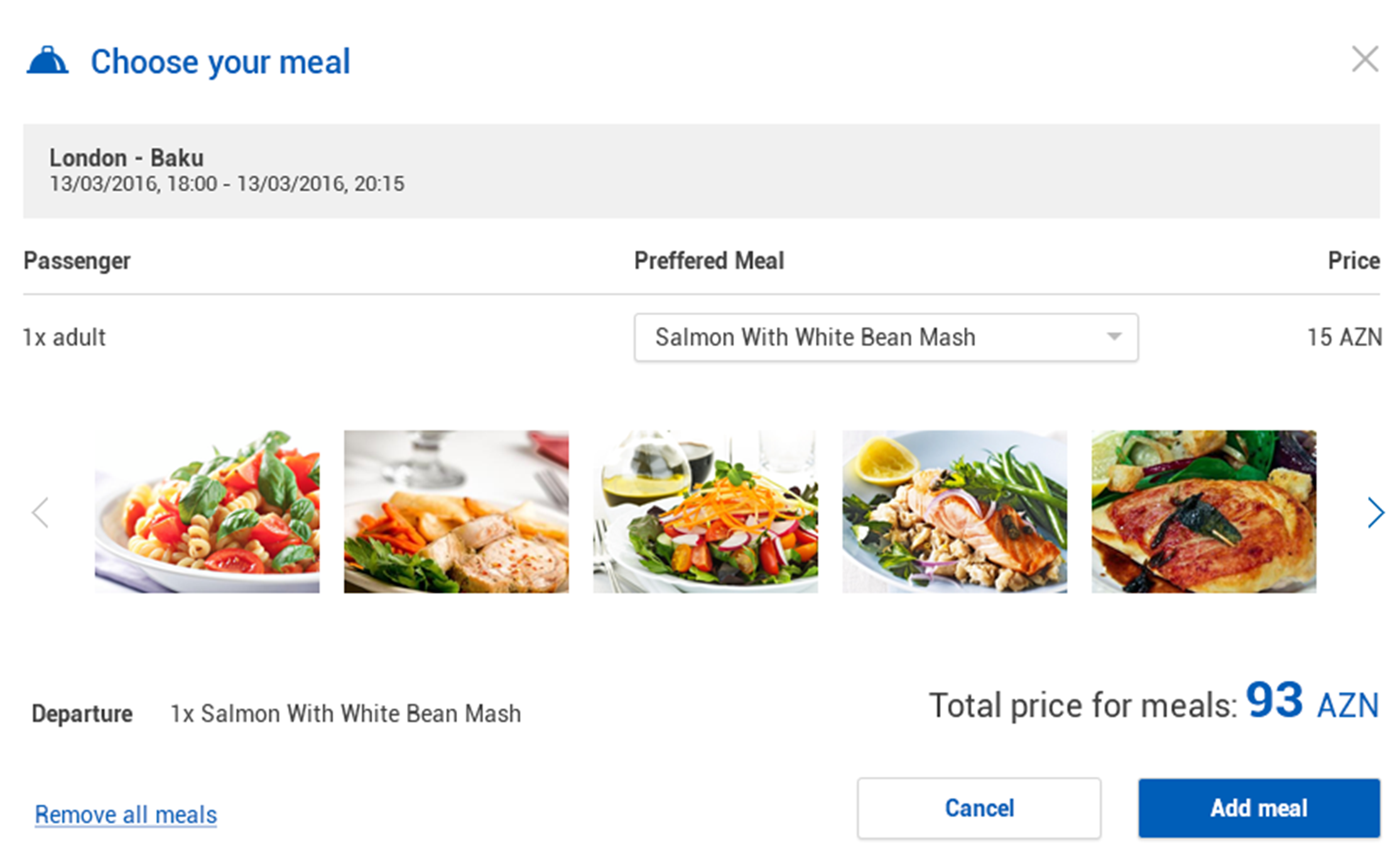 Hotels
With the latest trend of even business travelers using new types of accommodation, the traditional hotel business is currently the most challenging one in the travel industry as a whole. By not relying on a single hotel accommodation provider and sophisticated search and filtering logic, we can help you to cherry-pick the best offers across the globe. All offers come with a quality description and photography of the property and services included and official star rating. And to speed everything up, why not to store your favorite hotel locations or even hotel property codes in your travel policy for a particular destination? So you don´t need to browse through hundreds of offers and can book your preferred suppliers straight away?